Jump to navigation
Jump to search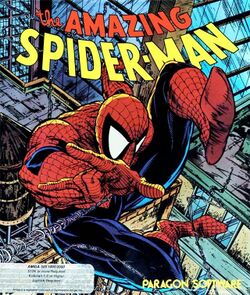 Neoseeker Related Pages
Links
This guide is for the 1990 computer game. For other games in the series, see Spider-Man category.
The Amazing Spider-Man is a platformer starring the Marvel comic book character Spider-Man. The game was developed by Oxford Digital Enterprises Ltd., and released in 1990 for the Amiga, and later ported to DOS, Commodore 64, and Atari ST. The title was published by Paragon Software.
Mysterio has kidnapped Mary-Jane, leaving only a note telling Peter Parker to have Spider-Man show up at the old movie studios or he will never see Mary-Jane again. Peter Parker dons Spider-Man's uniform and shows up at the studio only to be knocked out and left somewhere else in the studio, his spider-senses temporary paralyzed. Mysterio's voice booms out over the studios challenging Spider-Man to brave the movie studios and break through his defenses to save Mary-Jane.
Table of Contents