Jump to navigation
Jump to search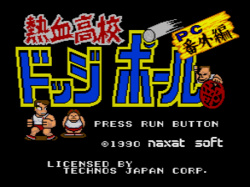 This guide is for the PC Engine release. For the arcade release, see Super Dodge Ball.
Super Dodge Ball, released in Japan as Nekketsu Koukou Dodgeball Bu (熱血高校ドッジボール部, Nekketsu Koukou Dojjibooru Bu?, lit. "Hot-Blooded High School Dodgeball Club") is a dodgeball-based sports game produced by Technos Japan Corp. originally released as an arcade game in 1987.
It was ported to the PC Engine in 1990, named Nekketsu Koukou Dojjibooru Bu: PC Bangai Hen (熱血高校ドッジボール部 PC番外編, lit. "PC-Edition"?). This Japan exclusive version featured a mixture of features from the arcade and Famicom versions.
Table of Contents