Jump to navigation
Jump to search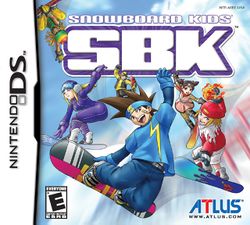 SBK: Snowboard Kids, released in Japan as Snowboard Kids Party (スノボキッズパーティー, sunobo kizzu pātī), is a snowboarding video game for the Nintendo DS released on November 22, 2005 in North America. It is the fourth in the Snowboard Kids series following three previous games released on the Nintendo 64 and the PlayStation. It features a new style of character design and a new adventure. Up to four people can play wirelessly with one game card. The game is generally looked down upon by fans because of radical changes made from previous installments.
The characters are, in fact, teens, not kids.
Their trademark big noses are gone.
Linda Maltinie doesn't appear in the game, her brother Brad does.
A couple of these characters original personality traits from the previous games have changed. One of the biggest changes is Tommy.
Table of Contents