Jump to navigation
Jump to search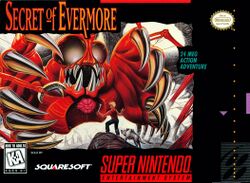 Neoseeker Related Pages
Links
Secret of Evermore is an action role-playing game developed by Square. Unlike most Square games, it was developed and released outside Japan only. It was released in North America in 1995 and in Europe in 1996.
Secret of Evermore is loosely related to the Mana/Seiken Densetsu series. The lead programmer declared in an interview: "We were, simply put, to make an American-flavored Secret-of-Mana-like game".[1]
The fact that Secret of Evermore and Trials of Mana were released at the same time and in completely separate regions is just coincidence, even if many fans supposed that the American title was a replacement for the Japanese one. In fact, Seiken Densetsu 3 was released exclusively in Japan mostly because of memory limitation of the SNES cartridge in North America and Europe; vice versa, Secret of Evermore was specifically conceived for a western audience.
Table of Contents