Jump to navigation
Jump to search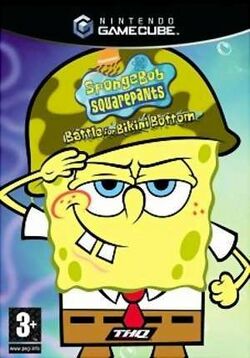 Neoseeker Related Pages
Links
This guide is for the console version. For the Windows release, see SpongeBob SquarePants: Battle for Bikini Bottom (Windows). For the GBA release, see SpongeBob SquarePants: Battle for Bikini Bottom (Game Boy Advance).
SpongeBob SquarePants: Battle for Bikini Bottom is a video game for the Game Boy Advance, Nintendo GameCube, Windows, PlayStation 2, and Xbox consoles (the Xbox version is backwards compatible for the Xbox 360 console) that is based on the television show SpongeBob SquarePants. The player attempts to defend Bikini Bottom from an invasion of robots created by Plankton (with a machine called the Duplicatotron 3000), who has lost control of them. The playable characters are SpongeBob, Patrick, and Sandy. However, for the PC version, the game is a series of minigames.
Plankton creates an army of robots but forgets to switch the Duplicatron's "Obey" switch.
To defeat these robots, SpongeBob, Patrick, and Sandy have to collect golden spatulas, which allow them to advance to different parts of town and eventually enter the Chum Bucket. SpongeBob is armed with the Bubble Wand for mêlée attacks, and the Cruise Bubble and the Bubble Bowl for ranged attacks. He also has the Bubble Bash to attack tikis in the air. Sandy has the Lasso, for ranged attacks, which can also be used to glide and swing from hooks, karate chop, and karate kick. Patrick has the ability to pick up and throw things, including tikis (some of which explode), Freeze Fruit and Throw Fruit, and he can also do a body slam.
The areas are: Bikini Bottom ( which acts as a central hub), Goo Lagoon, Downtown Bikini Bottom, Sand Mountain, Rock Bottom, Kelp Forest, Jellyfish Fields, the Chum Bucket, the Mermalair, and The Flying Dutchman's Graveyard.
This game is also the introduction to a new character, Prawn. In addition to the several regular robots that litter the levels, SpongeBob and friends will defeat four boss robots along the way: Robo-Sandy, Robo-Patrick, Robo-SpongeBob, and Robo-Plankton. Along the way, they will tangle with three semi-bosses: King Jellyfish, Prawn, and the Flying Dutchman.
Table of Contents