Jump to navigation
Jump to search
This is the first game in the Star Ocean series. For other games in the series see the Star Ocean category.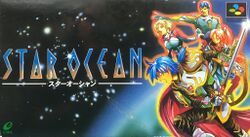 Neoseeker Related Pages
Links
Star Ocean was the first game developed by tri-Ace, a company founded by some of the developers of Tales of Phantasia. To date, it hasn't been released outside of Japan, though a PlayStation Portable remake was announced in 2007, giving fans of the series some hope of a future port for other regions.
The PSP remake, Star Ocean: First Departure, marks the first time this game has been available outside of Japan, over 10 years after its original release.
Table of Contents