Jump to navigation
Jump to search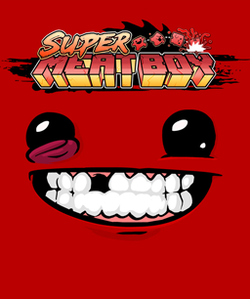 Super Meat Boy is an indie platform game designed by Edmund McMillen and Tommy Refenes and developed and published by them under their company name, Team Meat. It is the successor to McMillen and Jonathan McEntee's October 2008 Flash game: Meat Boy. Super Meat Boy was released on the Xbox 360 through Xbox Live Arcade in October 2010, then via Steam it was released on Windows in November 2010, on Mac OS X a year later in November 2011, and on Linux in December 2011 as a part of the Humble Indie Bundle #4 and in May 2012 as a part of the Humble Indie Bundle V.
The gameplay is characterized by fine control and split-second timing as the player runs and jumps through over 300 hazardous levels while avoiding obstacles. Additional player-created levels are available for free download. Some playable characters are exclusive to the distribution platform (e.g. the Head Crab is only available through Steam).
Super Meat Boy is a game where you play as a boy without skin whos girlfriend who is made of bandages gets kidnapped by a fetus in a tuxedo wearing a top hat and a monocle.

—Official site.
Table of Contents