Jump to navigation
Jump to search
This is the first game in the Tetris series. For other games in the series see the Tetris category.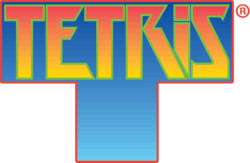 Neoseeker Related Pages
Links
Please note that due to the overwhelming popularity of Tetris, this guide does not focus on any one particular release of Tetris, but rather seeks to address features and components found throughout the franchise's history. To learn more about what features are contained in specific versions of Tetris, please check the Tetris category.
Tetris (Russian: Те́трис, pronounced [ˈtɛtrʲɪs]) is a Russian tile-matching puzzle game, originally designed and programmed by Alexey Pajitnov. It was released on June 6, 1984 while he was working for the Dorodnicyn Computing Centre of the Academy of Science of the USSR in Moscow. He derived its name from the Greek numerical prefix tetra- (all of the game's pieces contain four segments) and tennis, Pajitnov's favorite sport.
It is also the first entertainment software to be exported from the USSR to the US and published by Spectrum HoloByte for Commodore 64 and IBM PC. The Tetris game is a popular use of tetrominoes, the four-element special case of polyominoes. Polyominoes have been used in popular puzzles since at least 1907, and the name was given by the mathematician Solomon W. Golomb in 1953. However, even the enumeration of pentominoes is dated to antiquity.
The game (or one of its many variants) is available for nearly every video game console and computer operating system, as well as on devices such as graphing calculators, mobile phones, portable media players, PDAs, Network music players and even as an Easter egg on non-media products like oscilloscopes. It has even inspired Tetris serving dishes and been played on the sides of various buildings.
While versions of Tetris were sold for a range of 1980s home computer platforms as well as the arcades, it was the hugely successful handheld version for the Game Boy launched in 1989 that established the game as one of the most popular ever. Electronic Gaming Monthly's 100th issue had Tetris in first place as "Greatest Game of All Time". In 2007, Tetris came in second place in IGN's "100 Greatest Video Games of All Time". In January 2010, it was announced that the Tetris franchise had sold more than 170 million copies, approximately 70 million physical copies and over 100 million copies for cell phones, making it the best selling paid-downloaded game of all time.
On 14 March 2014, The Tetris Company announced a deal to bring Tetris to two of the latest hardware platforms, the Xbox One and PlayStation 4, in partnership with Ubisoft (publishing) and SoMa Play (development), to coincide with the franchise's 30th anniversary.
Table of Contents