Jump to navigation
Jump to search
This is the first game in the The House of the Dead series. For other games in the series see the The House of the Dead category.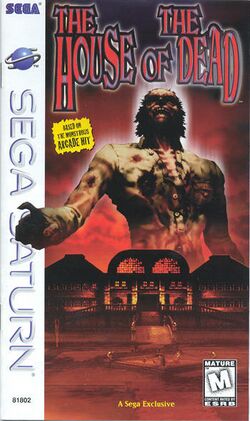 The House of the Dead is a first-person, light gun arcade game released in 1996 by Sega. Players assume the role of agents Thomas Rogan and "G" in their efforts to repel the dangerous, inhumane experiments of Dr. Curien, a madman.
AMS agents Thomas Rogan and G are sent on an assignment on December 18, 1998 to investigate a panicked phone call from Rogan's fiancée, Sophie Richards, and a series of disappearances at the Curien Mansion, home and laboratory of Dr. Curien, a biochemist and geneticist. Curien was obsessed with discovering the very nature of life and death, backed by the DBR Corporation and its scientists. The nature of the experiments, however, drove Dr. Curien insane, resulting in him releasing his experimental subjects into the world. Once they get there, a mortally wounded man gives them a small book showing all the bosses and their weak point. They use it every time they confront a boss.
Amidst the chaos wrought by Curien, Rogan and "G" face many formidable foes, including The Chariot, an undead warrior who knocks Sophie aside with his bardiche, The Hanged Man, a gargoyle-like creature with bat wings, ears and bandaged legs that takes Sophie back into the mansion at the start and killed two men in the courtyard, and The Hermit, a six-legged spider crab-like creature that spits balls of webbing, and the Magician, a demon monster that can fly and throw fire balls.
Table of Contents