Jump to navigation
Jump to search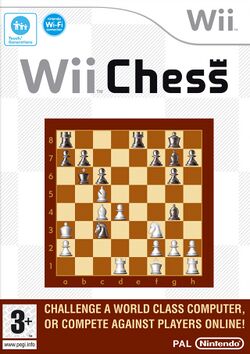 Wii Chess is a chess video game for the Wii console. It was developed by Nintendo and was released on January 18, 2008 in Europe as a budget-priced retail title. Under the name Tsuushin Taikyoku: World Chess, it was released as a downloadable WiiWare title in Japan on September 30, 2008. Wii Chess uses the Loop Express chess engine. Wii Chess has not yet been confirmed for a U.S. release, either as a downloadable title or retail package.
The game is played using

. However, instead of the pointer function, chess pieces are moved across the board using

.
The game features an option that gives players new to chess instructions on how each piece should move across the board. Players are also able to record and replay their games at a later time. Players can also play online against other players courtesy of the Nintendo Wi-Fi Connection, with Wii Chess players being able to compete against players of World Chess and vice-versa.
Table of Contents