Jump to navigation
Jump to search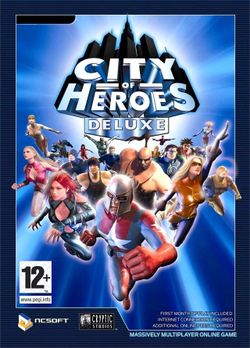 | | |
| --- | --- |
| Genre(s) | RPG |
| Players | MMOG |
| Latest version | 1600.20090902.4T2 |
| Rating(s) | |
City of Heroes is a MMORPG set in a comic-book-style universe. In it, players create their own unique hero and then perform deeds to halt or prevent acts either criminal or immoral, usually by force. It has proven to be among the most rapidly-changing MMOGs to date. The game was shutdown on November 30, 2012.
The game was released in the US in April 2004, and has since been released in Europe and Korea. On October 31, 2005, City of Villains was released as a standalone expansion to City of Heroes.
The universe of City of Heroes is centered around present-day Paragon City, one that, through coincidence and happenstance, has grown into the central hub for heroism and villainy in the world. Paragon City is confirmed to be on the coast of the U.S. state of Rhode Island, although there is no immediately obvious evidence of this within the game.
To accommodate a wide range of heroic styles from comic-book culture, there are a few major changes from the world we live in. Everyday technology is roughly the same, while the technology that heroes typically encounter is the stuff of science fiction. The existence of magic is not denied by anyone, as indeed, many heroes and villains use it as their primary source of power. Martial arts techniques are potentially so deadly that someone can, with enough talent, take down any modern weaponry or machinery with their bare hands. Mishaps or processes regarding radiation, chemicals, and other things relating to science are very common ways to obtain super-human ability. Additionally, some people are super-human by virtue of extreme genetic mutation, akin to Marvel's "X-Men" franchise.
Table of Contents
External links