Jump to navigation
Jump to search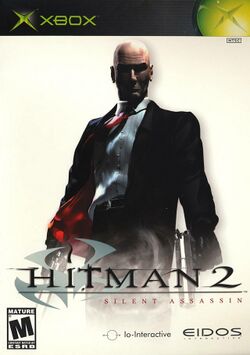 Hitman 2: Silent Assassin is a stealth-based shooter game, developed by IO Interactive and published by Eidos Interactive. It was the second installment of the Hitman video game series. The game was released on Microsoft Windows, PlayStation 2, Xbox and the GameCube.
Introduced in this sequel of Hitman: Codename 47 was the concept of a post-mission ranking system, in which the player is given a status based on how they completed the mission, rated along a stealthy-aggressive axis, between "Mass Murderer," a non-stealthy player who kills everyone, and "Silent Assassin," a stealthy player who manages to complete the level without being noticed and only killing the intended target(s). The game rewards the player for critical thinking and problem solving, encouraging the player not to treat the game as a simple shooter. Achieving Silent Assassin status on multiple missions rewards the player with bonus weapons (such as a sawed-off shotgun, and dual-silenced Silverballers).
Graphically, Silent Assassin can use either the Direct3D or OpenGL rendering engines.
Table of Contents