Papers, Please
From StrategyWiki, the video game walkthrough and strategy guide wiki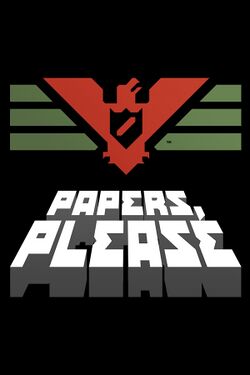 Papers, Please is a 2013 game about running a passport checkpoint. The player processes individual entrants and examines the paperwork they carry, ultimately deciding if the entrant is allowed or denied entry.
The game is set in the fictional country of Arstotzka that is opening the border after having just ended a war with its neighboring country.
The game has several story arcs that weave in and out of the narrative as the days pass. Most are limited to one or two days, while others run for the entire duration of the game.
The overarching story involves groups of people who are unhappy with how Arstotzka is being run. This is mainly shown in two ways: the checkpoint being attacked and a mysterious organization by the name of EZIC asking the player for favors to help their cause.
Table of Contents