Jump to navigation
Jump to search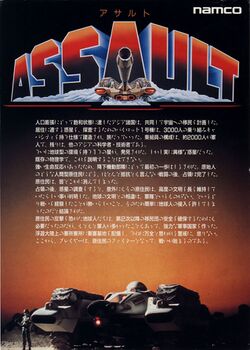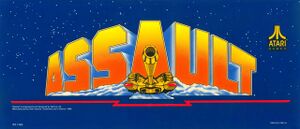 Assault is a multi-directional shooter arcade game that was released by Namco in 1988 and licensed to Atari Games for US manufacture and distribution; it is the last Namco game to be licensed to them, even though their logo still appeared on the Mejā Stadium's scoreboard in World Stadium '89 and '90. It runs on Namco System 2 hardware, and was the first game to use sprite scaling and massive sprite rotation (after Final Lap) - and it was also included in the fourth volume of the Namco Museum series.
In Assault, the player must take control of a futuristic tank that is operated by two four-way joysticks; its standard movements are carried out in the same way as many other tank games (such as Atari's own Battlezone), but two other moves can be executed on account of the joysticks being four-way - pushing both joysticks away from each other will cause the tank to stop moving, pop a wheelie, and allow the player to fire a nuclear missile at the enemies instead of the shots it usually fires while it is in its "normal" position; if both joysticks are pushed to the left or right, the tank will roll (or "strafe") to that direction, remaining the way up it had rolled onto until the move is performed for a second time.
Another innovation of the game is its perspective, along with the way that the player's tank enters and leaves the playfields; while the overhead perspective was not new, the game keeps that player's tank in the centre of screen while the playfield rotates around it. At the start of the first stage for each area, the tank is airdropped from above - but instead of it falling from the sky, the playfield appears to come up towards the tank; and when the last one for each area is cleared, the tank rises above the playfield and drops through a hole in the ground. These methods of entering and leaving reinforced the player-centric approach of this game - and these have never been replicated by Namco in any of their later games.
An upgrade known as Assault Plus was released later in 1988, but only in Japan; it gave the players (plural given that it supported two-player mode) a choice between "easy" and "super" mode at the start of the game, featured different music, changed the colouring of the enemies and removed the "zero seconds time bonus".
Table of Contents