Jump to navigation
Jump to search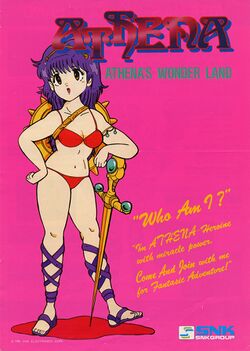 For the company, see Athena.
Athena is a platform arcade game, produced and published in 1986 by SNK. The game features traditional role-playing game elements. Princess Athena has to beat the boss of each stage by using miscellaneous mythological weapons, equipments and items. Without some items, she can not make it through the adventures. Everything in the game is inspired by Greek mythology or ancient Roman culture including weapons, equipments, items and enemy designs.
The game was ported to the Famicom and NES platform by Micronics. This port of Athena is considered one of the most difficult to finish in the NES library, due to its length, lack of mid-level checkpoints, and unforgiving play control. Conversions were also done for the Sinclair ZX Spectrum and Commodore 64 in 1987 by Ocean Software under their Imagine label, published only for the European market. (Despite popular belief, a conversion was never released for the Amstrad CPC.)
Athena (based on the Greek goddess of the same name) is a selfish princess of the Kingdom of Victory, which inhabits a mysterious world. She grows bored with the monotonous life day by day in her castle and desires exciting adventures. One day she opened the Door Which Shouldn't Be Opened in the basement of Castle Victory, and fell to another world called Fantasy World which was dominated by an evil emperor Dante, a creature based on Cerberus.
Appearances
[
edit
]
1999: Athena appears in the SNK vs. Capcom: Card Fighters Clash trading card game series, as an SNK character card and as an Action/Counter card.
2000: After the first adventure, Princess Athena faded out of SNK's stages until fourteen years later, she appears as Athena Asamiya's "Another Striker" in KOF 2000.
2003: She is a secret boss in SVC Chaos: SNK vs. Capcom as an angelic being guarding the entrance to the Heaven World, which is supposed to be one of the stages of this game. (Contrarily, the Capcom character Red Arremer as another secret boss guards the entrance to the Hell World.)
2005: After being defeated in SVC Chaos, she is sent to Earth, the human world, by Kamisama for further training through the fighting tournament summoned by WAREZ in SNK Playmore's next dream match game NeoGeo Battle Coliseum as a playable hidden character.
2006: Athena: Full Throttle is a platform mobile game, produced and published SNK Playmore for the i-mode on FOMA90x platform, as a real sequel of the original Athena video game. After Princess Athena defeats Dante, she becomes bored once again with peaceful days without adventures. This time she opens the Door Which Shouldn't Be Opened: B, disregarding the advice from her loyal maid Helene, and they both fall to the Elysium World to face a bunch of new villains.
Table of Contents