Jump to navigation
Jump to search
This is the first game in the Baraduke series. For other games in the series see the Baraduke category.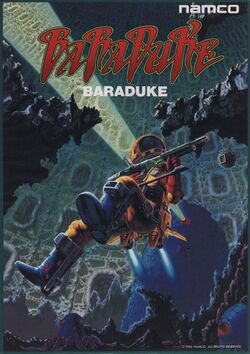 Baraduke - also known as Alien Sector - is a scrolling shooter arcade game that was released by Namco in 1985. It runs on Namco Pac-Land hardware (a Motorola M6809 and a Hitachi HD-63701 running at 1.536 MHz) but with a video system like that used in Metro-Cross (modified to support a 2048-colour palette). Ten years after its original arcade release, it was ported to the Sharp X68000, and it was also included in the fifth volume of their Namco Museum series for the Sony PlayStation.
The player must take control of a spaceman in a biohazard suit - 1UP is "Kissy" and 2UP is "Takky". They must clear eight worlds of increasing difficulty (each one is comprised of five regular floors and one boss floor) by using their wave guns to destroy all the enemies populating them. They must also save the one-eyed Paccets for extra points and the chance to earn another shield in the end-of-floor bonus games. On each floor there are a certain amount of enemies known as Octy, which will leave power-up capsules behind when defeated. Defeating all the Octy on any current floor will open up a pipe at the bottom of the floor - you will have to find and enter it, in order to proceed to the next. The boss floors feature a giant enemy (a Blue Worm in worlds 1, 3, 5 and 7, a Turning Eye in worlds 2, 4 and 6, and the Octy King himself in world 8) who must be killed in order to proceed to the next world.
A sequel named Bakutotsu Kijūtei was released in 1988, only in Japan. Not only was this the second game from the company to allow scoring not ending in "0" (their first one was Hopping Mappy, which was released in 1986), but it was also be the second of only three Japan-exclusive sixteen-bit games from the company to not feature their "legal notice" at startup (the first was Beraboh Man, which was released earlier in 1988). Also like Hopping Mappy, it used a Yamaha YM-2151 FM chip for its songs.
Table of Contents