Jump to navigation
Jump to search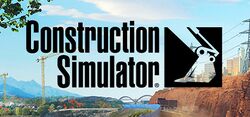 Construction Simulator (German: Bau-Simulator) is a simulation video game developed by weltenbauer. Software Entwicklung GmbH in Germany, and published by Astragon Entertainment. By utilizing a number of construction vehicles and hardware, players can either single-handedly build parks, houses, and other structures, or coordinate with other players to efficiently complete construction projects.
In addition to utilizing construction hardware, players will also have to manage their funds when buying the resources necessary to complete the projects, as well as transportation to get these resources to the construction site. Each of the two available open-world maps - one set in the United States, the other in Germany - has a story campaign to go with it, as well as other projects such as road surfacing.
Traffic Incidents
[
edit
]
Unlike other similar driving games, players can be fined for running red lights, crashing into other cars, and breaking the speed limit. Pedestrians cannot be run over, and instead phase through vehicles. Traffic violations can be disabled in the settings menu. Traffic and pedestrian activity can be reduced or eliminated altogether to make for easier driving, albeit through a ghost town.
While players can be fined for running through red lights, players will not be fined for driving around red lights, driving on sidewalks, or breaking other traffic laws.
It is not possible for players to die. Driving into rivers, wading into the ocean, or touching the surface of a swimming pool will simply reset the player back onto the nearest road while playing the Wilhelm scream. Stuck players have the option to click a Reset button to teleport to the nearest road while immediately putting your vehicle into drive.
Multiplayer
[
edit
]
Up to four players can collaborate with each other in-game, but all construction projects can be completed with a single person. Due to German laws, there is no text chat or voice communication between players.
In order to unlock multiplayer content, the host must first complete (or skip) the beginning tutorial.
As the host, your company and its money will be used in the game. Progress and profits will be recorded to the company the other players join. The host, indicated by a crown, has all rights (same as in single player mode) and manages the company while assigning roles to the other players.
The four roles are outlined below:
| Icon | Title | Permissions |
| --- | --- | --- |
| | Temp | Requires owner permission to purchase items. |
| | Employee | May purchase items without owner permission. |
| | Foreman | May purchase construction materials and accept new contracts without the owner's permission. |
| | Owner | Game host. Has all permissions, like in single player. |
Downloadable Content
[
edit
]
There are several DLC available for this game:
Car and bobblehead pack: Grants access to the WBuilder Coupe GT civil vehicle and a bobblehead of Hape.
Customization Kit: Contains a few new decals and Character creation options.
The Official Guide: A PDF file that outlines the main menu, settings, background information on Hape, the campaigns, Upgrade levels, the warehouse, Finances, Milestones, the various vehicle types, icons, multiplayer information, and Achievements.
Kramer Pack: Contains three vehicles built by the company Kramer - two Wheel loaders and a Telehandler.
JCB Pack: Contains six vehicles built by the company JCB - two Backhoes, an Excavator, a Wheel loader, a Telehandler, and a small dump truck.
Airfield Expansion: Unlocks a new campaign for Europe and USA in which an airfield is built.
Cosmetic Pack 1: Adds two new safety glasses, two helmets, and two ear protectors in Character creation.
Sany Pack: An upcoming DLC that includes vehicles built by the Chinese company Sany. Contains 15 vehicles, including two mobile cranes, and a tower crane, an asphalt paver, a cold planer, a motor grader, a rotary drill, a dump truck, a compactor, an asphalt compactor, and three excavators; one wheeled, one full-sized tracked, and one compact excavator.
Table of Contents
Company
Profile

USA
Maritime Tourism
Urban Space
Innovative Technologies
Waterways
Europe
Prestige Projects
Renewable Energies
Cultural Heritage
Transport Links
External links
[
edit
]