Jump to navigation
Jump to search
Click here for more information about Andy's other fighting game appearances.

Andy Bogard (アンディー・ボガード) is the brother of Terry Bogard and the son of Jeff Bogard. Although he is of American descendant, he was raised and trained in Japan (unlike his brother Terry).
Story (in Fatal Fury: Wild Ambition)
[
edit
]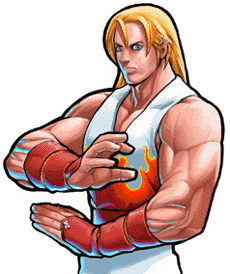 A bit moved towards emotions and fury, Andy has a hard time controlling his impulses. He tries so hard to surpass his brother Terry and to exact revenge on Geese, that he almost forgets all about himself. He finds his true love in Mai, whom Andy really loves, although he's afraid to admit it, since he is so insecure. Still, he cares a lot for his friends, his brother, and Mai, although in the mean time, Andy has to take the pressure of silence!

Throw

| | |
| --- | --- |
| Sokugai | (close)   + |

Shiranui Chichu
Karami
(close from behind)
+
Command Move

| | |
| --- | --- |
| Abise Geri | + |

| | |
| --- | --- |
| Kaiten Kesa Geri | + |

| | |
| --- | --- |
| Gyaku Mawashi Geri | + |

Ushiro Chuu
Kaeri Shuu Age
+

Rapid Palm
Combo Attack
    (3X)
(while standing)

| | |
| --- | --- |
| Age Tsura | (floats)   |
Special Move

| | |
| --- | --- |
| Hishou Ken | + |

| | |
| --- | --- |
| Geki Hishou Ken | + |

| | |
| --- | --- |
| Shouryuu Dan | + |

| | |
| --- | --- |
| Kuuha Dan | + |

Bakushin
+
(unblockable)

Kunai Dan
+
(on downed opponent)
Chain Attacks
(Close) standing  
Hishou Ken   +
Zaneiken   +
Standing
Standing
Hishou Ken   +
Zan'ei Ken   +
Kuuha Dan  +
Shouryuu Dan  +  (cannot Quick Recover)
Crouching
Crouching
Hishou Ken   +
Crouching  
Standing  
Standing  
Hishou Ken   +
Zan'ei Ken  +
Shoryudan   +,  Kunai Dan  
 +  + 
(while standing)     (3X)
Standing  
Hishou Ken   +
Standing  
Standing  
Standing  
Standing  
+
Standing  
Standing  
Standing  
Standing  



+

JUGGLE COMBOS:
(floats)  
Shouryuu Dan  +