Jump to navigation
Jump to search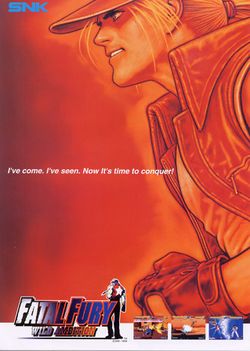 Neoseeker Related Pages
Links
Fatal Fury: Wild Ambition is a 3D fighting game released in 1998 as part of the Fatal Fury game series. It was one of the last games with the system board Hyper Neo Geo 64, and was later ported to the Sony PlayStation.
The game retells the story of the first Fatal Fury, replacing some of the original characters with characters from the sequels. Introduced in Wild Ambition are new characters Toji Sakata and Tsugumi Sendo.
Wild Ambition plays very similarly to Real Bout Fatal Fury, but replaces plane-shifting with rolling from one side to the other and also introduces the Heat Gauge.
Table of Contents
Character Select
[
edit
]