Jump to navigation
Jump to search
This is the first game in the Fighter's History series. For other games in the series see the Fighter's History category.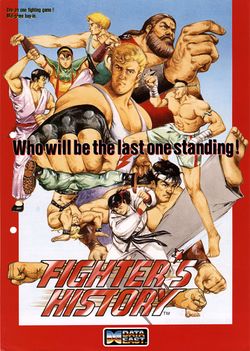 Fighter's History is a 1993 arcade fighting game developed and published by Data East. It's the inaugural game in the Fighter's History series. The main unique feature of Fighter's History is its weak point system, which allows the player to temporarily stun an opponent by repeatedly hitting their weak point. The game was ported to the SNES in 1994, and followed by a sequel Karnov's Revenge for Neo Geo.
Fighter's History uses a six-button control configuration similar to Street Fighter II and its iterations, with three punch buttons and three kick buttons, each for different strength levels (light, medium, and heavy). There are a total of nine playable characters, as well as two playable boss characters (via a code) at the end of the single-player tournament. The final boss and sponsor of the tournament is revealed to be Karnov, the protagonist of the Data East action game of the same name.
Table of Contents
Character Select
[
edit
]