Jump to navigation
Jump to search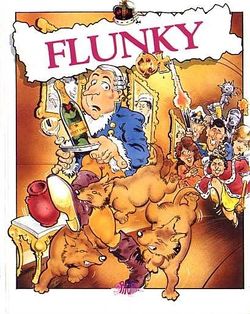 Flunky, later rereleased as Mad Flunky, is an adventure game, that was released by Piranha on the Sinclair ZX Spectrum, Amstrad CPC and Commodore 64 in 1987; its main character (the eponymous "Flunky") is a servant at Buckingham Palace performing tasks for Queen Elizabeth II, Prince Charles, Prince Andrew, Sarah Ferguson and Princess Diana (1961-1997). The game was a brainchild of Don Priestley (who had previously designed Popeye and Benny Hill's Madcap Chase, for DK'Tronics, and The Trap Door for Piranha) - and there are two portraits of Berk and Boni on the walls of the palace.
This is from the back of the cassette's inlay card, the front of which is shown in the image to the right:
WANNA JOB?
There's a weird one going in that famous house at
the end of London's Mall. Yes, this is your chance
to be a really creepy, crawly flunky in Buck House!
But you'll need a few qualifications to make the
grade as a menial manservant. Any good at bomb
disposal, fighting rats, avoiding homicidal guards
and chatting up the Royals? Quick reactions and
strong nerves will earn you your pay. But win or
lose, remember - life's never dull for a Flunky!
© Piranha 1987
Table of Contents