Jump to navigation
Jump to search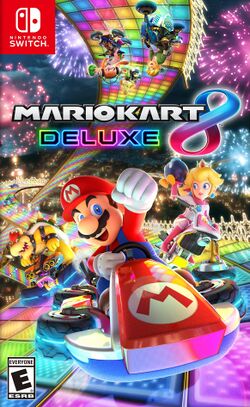 Mario Kart 8 is originally released on the Wii U back in 2015 as a successor to Mario Kart 7 on the 3DS. The gimmick is really anti-gravity or to put it another way, be able to drive on its side as the wheels have changed. Also includes features like a parachute and be able to go underwater when the kart undergo its change. Lastly the DLC includes Mercedes parts for the first time, inclusions of Link, Animal Crossing and F-Zero courses.
Mario Kart 8 Deluxe Edition is essentially the same as the Wii U version minus the second screen. It includes all DLC content with inclusions of new characters like King Boo and probably put random double item boxes for the first time since Gamecube's Mario Kart Double Dash and the added inclusion of Link from "Breath of the Wild" with his own motorcycle as they come together to be released in 2017. As boost courses has been included for the first time, it will randomly choose dates between 2022 and 2023, reusing old courses and updating it in line with the current courses. For example: Paris and Tokyo courses from Mario Kart Tour, Choco Mountain from Mario Kart 64 and Shroom Drive from Mario Kart DS.
Apart from that, it remains the highest selling game on Nintendo Switch.
Table of Contents
Initial Courses
Retro Courses
DLC Courses