Jump to navigation
Jump to search
This is the first game in the Pokémon Rumble series. For other games in the series see the Pokémon Rumble category.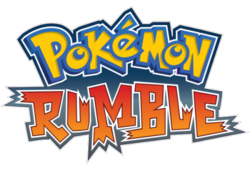 Pokémon Rumble (乱戦!ポケモンスクランブル, Melee! Pokemon Sukuranburu?) is a Pokémon game released as a WiiWare title on the Nintendo Wii. It was developed by Ambrella, with the game's Pokémon models reused from their previous WiiWare game My Pokémon Ranch. The game only features Pokémon from the first and fourth generations.
Gameplay
[
edit
]
Players control a clockwork Pokémon toy as they battle other clockwork Pokémon in a series of linear dungeons and enclosed arenas. The game features real-time melee-based gameplay, which has been likened to that of Smash TV.
Players start off with a low-level Pokémon with only one attack at their disposal. By battling wild Pokémon through a number of dungeons players collect coins in which to buy new attacks, and are given opportunities to capture more powerful Pokémon. When players obtain a high enough level Pokémon, the doors to the Battle Royale room open, where they take on dozens of Pokémon at a time in an enclosed arena. Players must survive three waves in the arena to rank up, eventually facing much stronger and even Legendary Pokémon.
The game also supports up to four players simultaneously in co-operative and competitive modes.
Table of Contents