From StrategyWiki, the video game walkthrough and strategy guide wiki
Ultra Beasts are strange beings that originated from another dimension. The Aether Foundation's main goal is to research more about them, and even SUMMON them!
They all have the same signature ability: Beast Boost: The Pokémon boosts its most proficient stat each time it knocks out a Pokémon.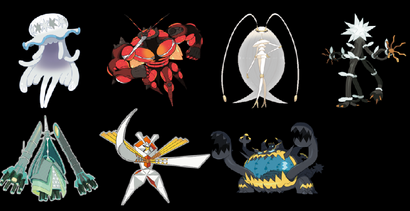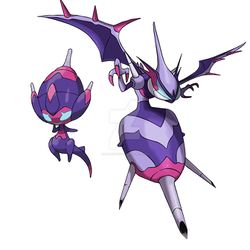 List of Ultra Beasts
[
edit
]
Nihilego (UB-01 Symbiont), is a Rock/Poison type.
Buzzwole and Pheromosa (UB-02 Absorption and UB-02 Beauty ), are Bug/Fighting types. Buzzwole appears in Ultra Sun, while Pheromosa appears in Ultra Moon.
Xurkitree (UB-03 Lighting), is an Electric type.
Celesteela and Kartana (UB-04 Blaster and UB-04 Blade), are similar Pokémon, but actually quite different: Celesteela is Steel/Flying type, while Kartana is Steel/Grass. Celesteela is the heaviest Pokemon, weighing at 999.9kg, while Kartana is the lightest, weighing at 0.1kg. Celesteela appears in Ultra Moon, while Kartna is in Ultra Sun.
Guzzlord (UB-05 Glutton), is a Dark/Dragon type.
Poipole' and Naganadel (UB Adhesive), are the first Ultra Beasts to have the ability to evolve. Poipole is a pure Posion type that evolves into Naganadel, which is a Posion/Dragon type.
Stakataka and Blacephalon (UB Assembly and UB Burst), are two very different Pokémon, that even the names are opposite! Stakataka is a Rock/Steel type, while Blacephalon is a Fire/Ghost type. Stakataka appears in Ultra Moon, while Blacephalon appears in Ultra Sun.
Base stats
[
edit
]
All Ultra Beasts have prime numbers as their base stats. They also all have a BST of 570.
| | Nihilego | Buzzwole | Pheromosa | Xurkitree | Celesteela | Kartana | Guzzlord | Poipole | Naganadel | Stakataka | Blacephalon |
| --- | --- | --- | --- | --- | --- | --- | --- | --- | --- | --- | --- |
| HP | 109 | 107 | 71 | 83 | 97 | 59 | 223 | 67 | 73 | 61 | 53 |
| Attack | 53 | 139 | 137 | 89 | 101 | 181 | 101 | 73 | 73 | 131 | 127 |
| Defense | 47 | 139 | 37 | 71 | 103 | 131 | 53 | 67 | 73 | 211 | 53 |
| Sp. Atk | 127 | 53 | 137 | 173 | 107 | 59 | 97 | 73 | 127 | 53 | 151 |
| Sp. Def | 131 | 53 | 37 | 71 | 101 | 31 | 53 | 67 | 73 | 101 | 79 |
| Speed | 103 | 79 | 151 | 83 | 61 | 109 | 43 | 73 | 121 | 13 | 107 |