Jump to navigation
Jump to search
This is the first game in the Power Stone series. For other games in the series see the Power Stone category.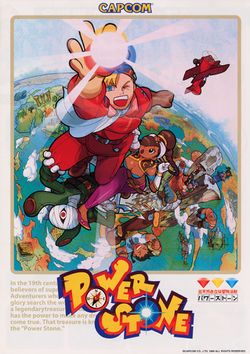 Neoseeker Related Pages
Links
Power Stone is a fully 3D arena fighting game series made by Capcom. Power Stone was initially released on the Sega NAOMI hardware and later ported to the Dreamcast.
Set in a steampunk version of the 19th century, strong believers of legends, myths and superstition search for fame, fortune and glory. One legend above all is sought after by many, a treasure which can make any dream come true. Believers from all over the world set out to search for this treasure, and are forced to fight against one another in pursuit of the legendary Power Stone.
Table of Contents