Jump to navigation
Jump to search
This is the first game in the Scooby-Doo series. For other games in the series see the Scooby-Doo category.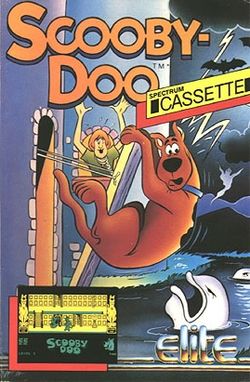 Neoseeker Related Pages
Links
Scooby-Doo (full title: Scooby-Doo in the Castle Mystery) is: a platform game, that was developed by Gargoyle Games for Elite Systems, and released for the Sinclair ZX Spectrum, the Amstrad CPC, the Commodore 64, and the Commodore Plus/4 in 1986; it is based on the Hanna-Barbera television series of the same name, which was first aired in 1969 but still gets new incarnations to this day, and the show's original incarnation, Scooby-Doo, Where Are You! (which ran until 1970), was spoofed by 20th Century Fox's science-fiction cartoon Futurama in 2013, as Bendee-Boo and the Mystery Crew.
This is from the back of the cassette's inlay card, the front of which is shown in the image to the right:
The Mystery Machine arrives at a ruined castle, and the gang
climb out, ready to explore. Suddenly, Velma, Shaggy, Daphne and Fred
are seized by large hands and a chorus of voices cry out, "Our
experiments are almost complete. Nothing can stop us now!" Though
frightened, Scooby decides to looks for his friends, but soon has the
feeling that he is not alone. Ghosts and demons of the strangest kind
gather on all sides and appear out of doorways, intent on stopping him
freeing the rest of the gang. Can you, as Scooby-Doo, fight your way
through the mad scientists' henchmen to rescue your friends, then seek
out their captors? Perhaps the trail of Scooby Snax may help you in
your search.
© Hanna-Barbera Productions Inc. 1986
Table of Contents