Jump to navigation
Jump to search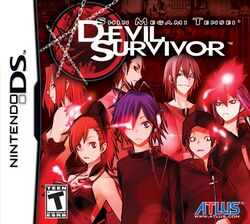 Shin Megami Tensei: Devil Survivor is a role-playing game for the Nintendo DS. Its characters were designed by Suzuhito Yasuda, and music was composed by Takami Asano. The game uses a mix of Strategy and more traditional RPG systems for battle, allowing characters to maneuver into position on a grid, while the battle turns take place on a traditional battle screen displaying up to three enemies.
A enhanced port was released for the Nintendo 3DS as Shin Megami Tensei: Devil Survivor Overclocked. It added new features including an 8th day, a demon compendium, and titles.
Tokyo has been sealed by the Japan Ground Self-Defense Force due to a demon outbreak, and it will be seven days before the whole capital is wiped out. The protagonist, a 17 year-old high school student, is trapped with his two friends, Atsuro Kihara and Yuzu Tanikawa, within the city. The three are forced to make contracts with demons by utilizing a peculiar device called a COMP to survive.
Table of Contents