Jump to navigation
Jump to search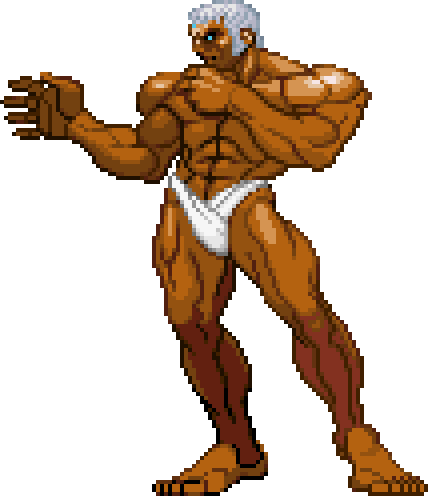 Urien is the younger brother of Gill. Urien, like Gill, is dressed like an ancient Greek Olympic athlete, wearing only a white sloth strap, although he is shown lighter-skinned and wearing business attire during the character introduction that precedes every match in Street Fighter III; his clothes disappear and his skin darkens before beginning his fight.
As a Street Fighter III character, Urien does not have an official biography. He is the inferior brother of Gill and tried to claim the leadership of his organization, the Illuminati. When he finally succeeded, he learned that there was an Emperor outranking him, his brother Gill. Now Urien still longs to overthrow Gill by creating his own army with the G Project. He kidnapped one of the children Chun-Li looks after so she could get back in shape. While his brother wields fire and ice, he can wield lightning and make his body metallic.
Aside from a few exceptions, Urien has virtually the same move list as Gill, except that much of the input motions for performing the techniques are different. Unlike Gill, some of Urien's special moves are "charge" moves, thus forcing the player to work around the necessity for charge times. Urien also does less damage than his boss counterpart. Urien also appears as a playable character in Capcom Fighting Evolution.
Personal Action
[
edit
]
When you perform Urien's personal action (

+

), his attack power increases for all of his moves except throws. His Personal Action can hit once. Interestingly enough, if it hits, he doesn't get he attack power bonus!

| Name | | Input |
| --- | --- | --- |
| Spartan Bomb | close, or + | or |
| Destroy Claw | close, or + | or |
| Elbow | + | or |
| Maul Punch | + | |
| Step Kick | + | |
| (EX) Metallic Sphere | + | |
| (EX) Chariot Tackle | + | |
| (EX) Violence Knee Drop | + | |
| (EX) Dangerous Headbutt | + | |
| I   Tyrant Punish | + | (x2 meter) |
| II  Jupiter Thunder | + | (x2 meter) |
| III Aegis Reflector | + | or (x2 meter) |
| Name | | Input |
| --- | --- | --- |
| Destroy Claw | | + |
| Spartan Bomb | or + | + |
| Elbow | | + |
| Quarrel Punch | + | |
| Quarrel Kick | + | |
| Terrible Smash | + | |
| (EX) Metallic Sphere | + | (hold to delay) |
| (EX) Chariot Tackle | + | |
| (EX) Violence Knee Drop | + | |
| (EX) Dangerous Headbutt | + | |
| I   Tyrant Slaughter | + | (x2 meter) |
| II  Temporal Thunder | + | (x2 meter) |
| III Aegis Reflector | + | or (x2 meter) |
Target Combos


(cancelable)

+