Jump to navigation
Jump to search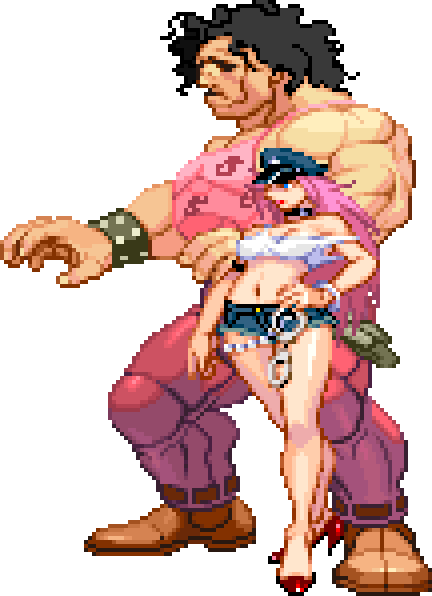 Hugo is a 7'10", 445lbs pro wrestler managed by former Mad Gear member, Poison. Hugo's look and build are based on professional wrestler, André the Giant. Hugo and Alex's pose before battle is in reference to the feud between André the Giant and Hulk Hogan. In the background of Hugo's stage in Street Fighter III, there are various championship belts on the floor that vaguely resemble All Japan Pro Wrestling's AJPW Triple Crown Championship.
Hugo Andore and several members of his family were prominent members of Mad Gear, although Cody outfought the elder members in a cage match in the West Side and Haggar humiliated him in the original Final Fight, which infuriated the wrestler to no end; it made him so mad that in Final Fight Revenge Andore attempted to give a televised broadcast to Haggar challenging him for the mayorship through a wrestling match, but unfortunately the broadcast was never aired. Andore and his family would continue to join Metro City's most prominent gangs for years to come, including a revived, worldwide Mad Gear in Final Fight 2 and Mad Gear's successor the Skull Cross gang in Final Fight 3. Even so, Haggar and his friends crushed each of these syndicates and Andore's hopes of glory.
Deciding that the criminal lifestyle was not for him and accompanied by his friend Poison, Hugo entered the third World Warrior tournament in Street Fighter III: Second Impact because he wanted to find a suitable tag team partner, due to his former one being mysteriously killed off by a rival. During the tournament, Hugo battled with Ryu, a traveler who is constantly perfecting his fighting skills. In that battle Hugo was hit by the Shin Shoryuken, Ryu's most powerful move, but he was not knocked out by it and continued to put on an amazing performance. Ryu may have temporarily been his tag team partner anyway, but a permanent solution was not given and again Hugo needed a partner.
Eventually, Hugo and Poison decided to start their own wrestling promotion in Street Fighter III: 3rd Strike, the Huge/Hyu Wrestling Army (HWA). Their main objective is to take over all of pro wrestling.
Personal Action
[
edit
]
When you perform Hugo's personal action (

+

), his attack power increases for all of his moves except throws (this includes all special move and Super Art throws). If you hold down HP+HK, he does an alternate taunt that also increases throw damage. Furthermore, each time you do either taunt, he gets a defense bonus (less damage from attacks). After taunting four times, you won't get any more defense power bonuses.

| Name | | Input |
| --- | --- | --- |
| Neck Hanging Tree | close, or + | |
| Body Slam | close, or + | |
| Knee Attack | + | or |
| Body Press | + | |
| Drop Kick | or + | |
| Elbow | close, standing | |
| (EX) Giant Palm Breaker | + | |
| (EX) Monster Lariant | + | |
| Ultra Throw | close, + | |
| Moonsault Press | close, + | |
| Shootdown Backbreaker | close, + | |
| I   Gigas Breaker | close, + | (x1 meter) |
| II  Megaton Press | + | (x2 meter) |
| III Hammer Mountain | + | , hold to delay (x2 meter) |

| Name | | Input |
| --- | --- | --- |
| Neck Hanging Tree | | + |
| Body Slam | or + | + |
| Knee Attack | | + |
| Body Press | + | |
| Drop Kick | or + | |
| Elbow | close, standing | |
| (EX) Giant Palm Breaker | + | |
| (EX) Monster Lariat | + | |
| Ultra Throw | close, + | |
| Moonsault Press | close, + | |
| Meat Squasher | + | |
| Shootdown Backbreaker | close, + | |
| I   Gigas Breaker | close, + | (x1 meter) |
| II  Megaton Press | + | (x2 meter) |
| III Hammer Frenzy | + | , hold to delay (x2 meter) |