Jump to navigation
Jump to search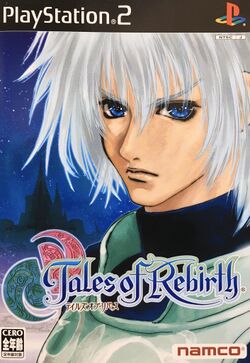 Tales of Rebirth is another instalment in Namco's "Tales" series, set in the kingdom of Karegia. Once again using Linear Motion Battle System for the random encounters, Tales of Rebirth expands on LMBS with the possibility of 3 separate "lines" characters can be on at one time. Tales of Rebirth also has a new "Force" feature, where characters in battle no longer have "TP" stats, and instead, special abilities are represented by 4 Force Gauges in the shape of a diamond next to the character's HP. When filled, the technique connected to the Force Gauge in question will reap certain benefits, such as a larger amount of health being regained when using it, or dealing more damage.
In the kingdom of Karegia, the Humas and the Gajumas have lived in peace together for many years. However, after the death of the most recent king, his Force spread all over the world, causing devastation. In Sulz, a young man named Veigue was a victim of the king's force, and discovers the incident has awakened the power of Ice in him. However, Veigue's sudden awakening caused him to encase his close friend Claire in a large block of ice. A year later, Mao and Eugene come to meet him, and Veigue begins on his adventure...
In Tales of Rebirth, there are 2 primary races, Humas, and Gajumas. Humas are normal humans. Gajumas are humanoid animals, with the power of speech. Both share many similar traits, but have completely different looks. The two races have quite a bit of discrimination between them, but for the most part, live in harmony.
Table of Contents