Jump to navigation
Jump to search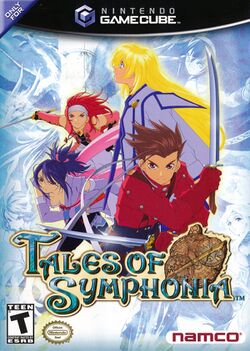 For the Wii spin-off, see Tales of Symphonia: Dawn of the New World.
Tales of Symphonia is a Namco game for the Nintendo GameCube and PlayStation 2 (the latter in Japan only).
In a dying world, legend has it that a Chosen One will one day rise from amongst the people and the land will be reborn. The line between good and evil blurs in this epic adventure where the fate of two interlocked worlds hangs in the balance.
Over 80 hours of gameplay in this epic, emotionally-charged storyline. One of the fiercest, most action-packed battle systems ever created where up to 4 players can fight simultaneously. Combine hundreds of special attacks and magic spells.
Enter a world of high quality animé cutscenes and become absorbed in endearing cel-shaded characters designed by renowned artist Kosuke Fujishima.
Box artwork
[
edit
]
Table of Contents