Jump to navigation
Jump to search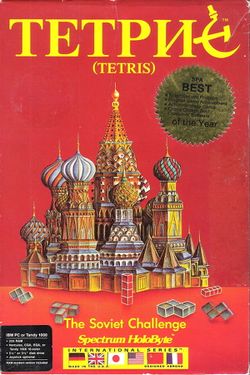 Neoseeker Related Pages
Links
Tetris (Russian: Те́трис, pronounced [ˈtɛtrʲɪs]) is a Russian tile-matching puzzle game, originally designed and programmed by Alexey Pajitnov. Spectrum Holobyte's version was the very first commercial release of Tetris in the United States. It was published in 1988 for the following home computer platforms: Apple II, Apple IIGS, Atari ST, Commodore Amiga, Commodore 64, Macintosh, and MS-DOS. In most cases, these versions were designed from the ground up. Only in the Commodore 64's case was the Mirrorsoft release sold instead.
Along with the version developed by Spectrum Holobyte's European sister company, Mirrorsoft, it was originally released under bogus licensing. However, contracts were later made between Andromeda Software (the sublicensing party), and Elorg, which secured the legality of the products. The Spectrum Holobyte releases are notable for the various Russian themed backgrounds whose display changes with every level.
Releases
[
edit
]
Apple II/IIGS
[
edit
]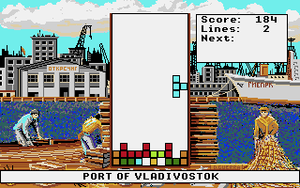 This release was packaged with three different Apple II versions on one disk: one for the Apple IIGS (image shown left), another for Apple II hi-res mode, and another for Apple II double hi-res mode.
Atari ST
[
edit
]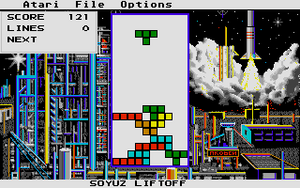 Nearly identical to the Commodore Amiga release.
Commodore Amiga
[
edit
]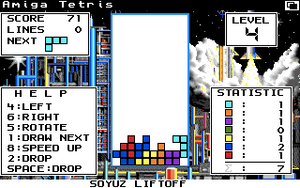 Nearly identical to the Atari ST release.
Commodore 64
[
edit
]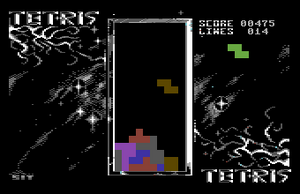 The only version not developed independently by Spectrum Holobyte, this version is a repackaged release of the European Mirrorsoft release, which was developed in Hungary.
Macintosh
[
edit
]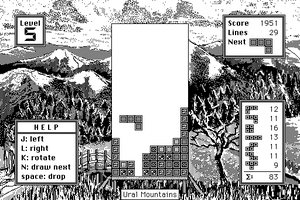 Very similar in presentation to the Apple II releases, however the graphics are in Black and White since the first Mac did not support color graphics. The Mac II however did, and a second release was made available to support the color graphics of that system.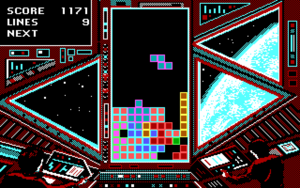 Capable of presenting graphics in either the 4 color CGA mode, or 16 color EGA mode (shown left).