Jump to navigation
Jump to search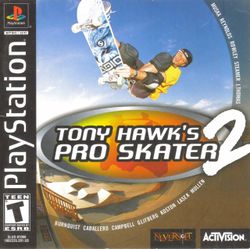 This guide is for console release. For the GBC version, see Tony Hawk's Pro Skater 2 (Game Boy Color). For the GBA version, see Tony Hawk's Pro Skater 2 (Game Boy Advance). For Xbox re-release, see Tony Hawk's Pro Skater 2x.
Tony Hawk's Pro Skater 2 is a skateboarding arcade-style game, the second in the Tony Hawk series of sports games. It was published by Activision and initially developed by Neversoft for the Playstation. Subsequent ports were created for the Nintendo 64, Dreamcast, Game Boy Color, Game Boy Advance, Mac OS, Microsoft Windows, and iOS under different developers. It also received an updated release for the Xbox on November 15, 2001 as Tony Hawk's Pro Skater 2x, which added levels from the first Tony Hawk as well as five bonus levels.
Gameplay
[
edit
]
Tony Hawk is back to shred the streets with three new pro skaters joining the roster: Steve Caballero, Eric Koston, and Rodney Mullen. More ways to skate are added with the ability to manual being the biggest innovation, allowing skaters to string street tricks for bigger combos. There are more moves as well with lip tricks having their own button combinations as well as a handful of new flips, grabs, and grinds.
There is far more to customize than the previous game as every skater can have their moveset changed with different tricks and special moves to try. Furthermore, players can create their own skaters with their own stats and moves and even create new levels with the Create-A-Park feature.
Table of Contents