Jump to navigation
Jump to search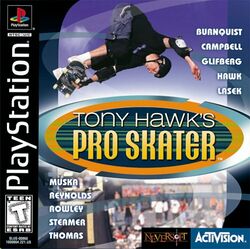 Neoseeker Related Pages
Links
This guide is for the console release. For the GBC version, see Tony Hawk's Pro Skater (Game Boy Color).
Tony Hawk's Pro Skater (also known as Tony Hawk's Skateboarding in Europe) is a skateboarding arcade-style game published by Activision and initially developed on the Playstation by Neversoft. It was later ported to the Nintendo 64, Dreamcast, Game Boy Color, and N-Gage by other developers. Heralded as the game that popularized skateboarding and began a sports series with several installments.
Gameplay
[
edit
]
Starring Tony Hawk along with nine other famous skaters as they tour along the United States to dominate tournaments, discover new skating spots, and obtain some secret tapes. Beating the game will unlock new levels and full motion video showing off highlights of professional skateboarders.
There is a Career Mode that lets the player experience the tour, Single Session to gain a high score in two minutes, Free Skate mode for practicing, and a Two Player Mode where two skaters compete in three game types: Trick Attack, Graffiti, and Horse.
Notably, the Nintendo 64 version is watered down with shortened tracks and no FMVs. Blood stains and adult language from the soundtrack are removed. The GBC version is a completely different adaptation as it only features a top down racing mode and a half pipe mode.
Table of Contents