Final Fantasy X/Baaj Temple
From StrategyWiki, the video game walkthrough and strategy guide wiki
[edit]
Introduction
Items: 200 Gil, Potion 2x, Hi-Potion 2x, X-Potion, Ether, Flint, Dried Bouquet
Monsters: Sahagin (100 HP, 0 AP)
Bosses:

Geosgaeno (32767 HP, 4200 AP)
Klikk (1500 HP, 5 AP)

Steps:
[edit]
Lost At Sea
You'll awake in the water. Swim north and soon you should see a bright blue ball in the northeast on a platform. Swim to the right and climb up the stairs and check that out. You wont be able to read it; it's Al Bhed (more about that later). Continue north on this platform and open the chest for 200 Gil. Return to the water and swim west. In the top northwest corner, there should be a square shaped platform with a hole in the center. Climb up the stairs there and check out the blue sphere. If you have played before and collected some of the Al Bhed Dictionaries (they decipher the language for you), then you can load them up so you can understand Al Bhed throughout the game. If you haven't played before, ignore it. Head south down the platform, across the bridge, and open the chest for Potion 2x. Now, continue north and up the stairs in the center.
Start crossing the bridge, and follow the branch to the left. Grab the Hi-Potion at the end and then return to the main path. Continue north until the bridge falls apart and you fall into the water. Swim forward just a bit and soon Sahagins will ambush Tidus. These fish are extremely weak, and it should only take one hit for each. Once two are gone, a much, much bigger fish will eat the final Sahagin…
[edit]
The Geosgaeno Confusion
Most people consider this a boss fight, but that's ridiculous. You can't win. He can't win, as his only attack simply causes Tidus to lose half his current HP. So, just attack. Don't heal (don't waste any Potions; always cherish those!). After about two or three hits, Tidus will run off and you'll be caught inside a temple. Walk up the ruins and listen as Tidus complains.
[edit]
A New Hope
There is a Save Sphere if you need one, but your main focus is to build a fire for poor Tidus. Next to the Save Sphere is a large door. Push through it and grab the Flint from the desk in the back of this area. Now, we need tinder. But before we get that, go to the right of the room, where you should see a door (even though it isn't marked as such on your mini-map). Go right up to the door, and push to the right, and the screen should change. You should see a chest with a X-Potion in it. Return to the main area and head to the northern side. As you enter, you can grab an Ether from a chest at the bottom of the screen. Climb up the steps, and about halfway up, the camera will change to show you the Dried Bouquet. Grab it and then continue up the steps. Walk across the balcony to grab a Hi-Potion. Now, it's time to start a fire! Return to the center of the main area and examine the fire pit (Please note: definitely save before continuing. You'll need the full health after Geosgaeno before Klikk).
Tidus will fall asleep next to the fire and have a strange dream. When he awakes, he'll notice Klikk. This guy looks tough, and is the first boss you can actually die against! Be sure to have plenty of Potions!
[edit]
BOSS FIGHT: Klikk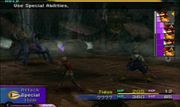 Name: Klikk
HP: 1500 (400)
AP: 5 (7)
Gil: 50
Steal: Grenade
Drop: Ability Sphere 2x
Auto-Abilities: None
E Weaknesses: None
E Strengths: None
This is definitely the toughest fight yet. It'll basically be a back and forth fight (meaning you'll get one turn, then he will, and then you will). However, at least for me, occasionally I'd get a two-turn round. So take the opportunity to heal and then hit him again. Focus on fighting for this first part, but heal when your health reaches approximately 110, because that's about how much he deals each turn. After you deal about 850 HP, some unknown people will break through the wall and the girl (Rikku) will join you for now. She is very useful because she can Use Grenades, which deal much more damage than Tidus. After you are forced to use a Grenade the first round as Rikku, steal a Grenade. Basically, steal a Grenade, use it, and then steal it, etc, so that you remain with at least 2 Grenades; you'll need them for later. Be sure to keep each of their health above 110, but a death wont be too dramatic. Soon, this fight should be over; the hard part is waiting for Rikku.
Note: Once the cutscene happens (where you see the strange people entering), Klikk's heath will be back at full.
Unfortunately, these new "friends" aren't so friendly, nor do they speak English like Tidus…You'll get knocked out.