Jump to navigation
Jump to search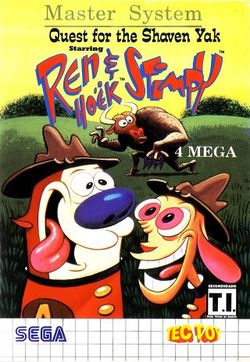 Quest for the Shaven Yak: Starring Ren & Stimpy is a platform game, developed up by Realtime Associates, and initially released by Tec Toy on the Sega Master System in 1993, but also released by Sega upon their own Game Gear in 1994; it is the fourth title in the Ren & Stimpy series, and the third to be produced after Games Animations took over from Spümcø in the production of the show, although it is inspired by the penultimate Spümcø-produced episode of "The Royal Canadian Kilted Yaksmen" (which is the source of the U.K. National Anthem parody "Our Country Reeks of Trees").
This is taken from the back of the box, the front of the SMS one's displayed in the image to the right:
Ren & Stimpy, the offbeat favorites of Nickelodeon's hit
animated series "The Ren & Stimpy Show", head off on a
torturous trek to return the hooves of the Great Shaven Yak.
Be headstrong, temper-tossing Ren or loyal, gullible Stimpy.
Cross tons of terrible terrain! Secret bonus caves and tunnels in every level!
Stimpy coughs a hairball, and Ren tosses a toothbrush!
Pick up toast, kitty litter, money, mittens and a Happy
Helmet for more power!
Crocostimpy's, dirt geysers, egg-bombing buzzards and
more bizarre perils await!
© MTV Networks 1993
For those of you who do not know, the "Crocostimpy" was a fictitious creature created for the episode "Untamed World: A Cartoon" (so named because it resembled Stimpy!), and the "Happy Helmet" was what Stimpy himself invented for the episode "Stimpy's Invention" to put on Ren and force him happy; also, the reason why one of the bonus items is toast is because of superhero "Powdered Toast Man".
Table of Contents
Quest for the Shaven Yak: Starring Ren & Stimpy/Table of Contents