Jump to navigation
Jump to search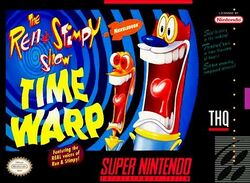 The Ren & Stimpy Show: Time Warp is a platform game, developed up by Sculptured Software for THQ and released on the SNES in November 1994; it is the seventh title in the Ren & Stimpy series, and the sixth after Games Animations took over from Spümcø for the production of the show (but the third and fifth stages are based on "Haunted House" and "Untamed World: A Cartoon", two Spümcø-produced episodes, the former of which guest-starred another original Nickelodeon Character, Doug Funnie, as the "Bloody Head Fairy"!). Apart from a SNES version of Buckeroo$ in 1995, there would not be any more Ren & Stimpy games, until the release of Ren & Stimpy Pinball for mobiles in 2004.
This is taken from the back of the game's box, the front of which is displayed in the image to the right:
Travel back to the Far-Flung reaches of Last Week as Ren
& Stimpy team up for a time travel through their Backyard,
the Big City, a Haunted House, an Unfriendly Zoo, and the
entire Untamed World. Navigate the time machine through
dangerous time phenomena and fire portal mazes. Use
hardy watermelon bows, beaver saws, and even mystic
canoes to stop Muddy Mudskipper from ruining history. Get
Ren and Stimpy back to the present and make some big
bucks on the side!
© MTV Networks 1994
This game's box also states this game features the "real" voices of Ren & Stimpy; although Ren was originally voiced by the show's creator, John Kricfalusi, he was later usurped by Stimpy's voice actor, Billy West, when Games Animations took over production. The pause menu is also based on the "At last I have control of your TV set. Are you receiving me?" sketches (from the show's Spümcø years).
Table of Contents