Jump to navigation
Jump to search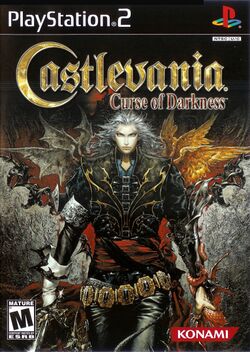 Castlevania: Curse of Darkness (悪魔城ドラキュラ 闇の呪印, , Akumajō Doracula: Yami no Juin?, lit. "Devil's Castle Dracula: Darkness' Curse") is a three-dimensional action game in third person, originally released for PS2 in 2005.
The game re-uses the engine from Castlevania: Lament of Innocence (2003, PS2), but the plot makes it a direct sequel to Castlevania III: Dracula's Curse (1989, NES).
It has been three years since Dracula was defeated by Trevor Belmont and his allies (see Castlevania III: Dracula's Curse), but his curse remains. Europe is a wasteland of death and destruction. During this time, a devil forgemaster by the name of Hector, who left Dracula's army during the war, seeks revenge against another forgemaster, Isaac, who remained loyal to Dracula and had Hector's lover killed in retaliation.
Table of Contents