Jump to navigation
Jump to search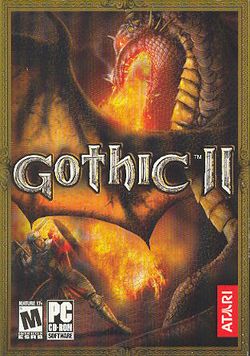 Gothic II is a 2002 RPG and the sequel to Gothic. It was later followed by the Gothic II: Night of the Raven expansion pack, bundled togther as Gothic II Gold Edition and in the compilation Gothic Collector's Edition. The game plays similarly to the original, with the player again seeking to join one of three factions in order to speak with the leader and help avert the coming danger.
Gothic II Gold Edition
[
edit
]
Gothic II Gold Edition includes Gothic II and Gothic II: Night of the Raven. It is the first time Gothic II: Night of the Raven has been released in North America, and also its first appearance with localised voiceovers (previous releases only had localised subtitles).
The destruction of the Barrier around the Colony in the original game ended the prisoners' plight but made things in the outside world even worse. The fleeing convicts caused havoc in the nearby city of Khorinis, and the Colony has been occupied by an evil army bent on the destruction of the human race.
Table of Contents