Jump to navigation
Jump to search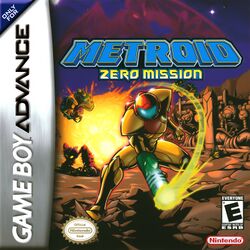 Independent wikis with more information:
Metroid: Zero Mission is an action-adventure video game produced by Nintendo for the Game Boy Advance handheld console. It is part of the Metroid series, an enhanced remake of the original Metroid game designed to "retell the story of Samus's original mission". Like the other titles in the series, it features intergalactic bounty hunter Samus Aran as the player-controlled main character.
Zero Mission was developed by Nintendo's internal team, Nintendo R&D1, under the direction of Yoshio Sakamoto. The game was released on February 9, 2004 in North America, and on May 27, 2004 in Japan.
Table of Contents