Jump to navigation
Jump to search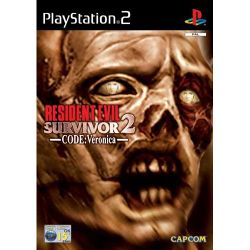 Neoseeker Related Pages
Links
Resident Evil: Survivor 2: Code: Veronica (a.k.a. Gun Survivor 2) is a 2002 PS2 game that was ported from the 2001 arcade game named, "Gun Survivor 2: Biohazard: Code: Veronica," a co-production between Namco and Capcom. The story for the game was adapted from Resident Evil: Code: Veronica
The arcade version runs on the Dreamcast-based NAOMI 2 arcade hardware. The PlayStation 2 version of Gun Survivor 2 was released in Japan and the PAL region (the latter renamed Resident Evil Survivor 2 Code: Veronica).
The Arcade version of the game uses a fixed machine gun that serves as a joystick to move the player and rotate the view, as well as to fire the player's weapons. The game runs on a timer that counts down when an area is entered, and if time runs out, the Nemesis from Resident Evil 3: Nemesis will start pursuing the player and attack them. Only certain arcade machines have 2 player support.
Gun Survivor 2 has no bearing on the plot of Code: Veronica and the events of the game are actually depicted as a dream in Claire's mind at the end of the game.
Table of Contents