Jump to navigation
Jump to search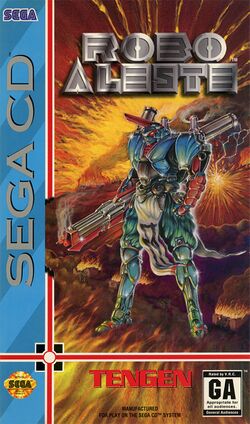 Robo Aleste, released in Japan as Dennin Aleste (電忍アレスタ, Denninu Aresuta?), is a vertically scrolling shooter video game developed and published by Compile for the Sega CD on November 27, 1992. Tengen and Sega released the English version of the game overseas in 1993. It is the last game in the Aleste series, and is a follow-up to MUSHA for the Sega Genesis. A Sequel titled Dennin Aleste 2 was planned for the Sega CD on 1993, but was cancelled.
The plot of the game refers to the Sengoku era feudal Japan being given giant mecha. The player takes control of one such mecha, the Aleste, piloted by a man named Kagerou, as he fights other feudal lords.
Kagerou (Shadow) is the sole surviving member of Oda "Demon King" Nobunaga's robot ninja army, the White Fang. The Aleste is an 8-metre tall mechanized steam-powered mech. At the start of the game, Nobunaga's home is razed to the ground by Kurogane, who is a frequent end-of-level boss throughout the game and the older brother of Kagerou. Nobunaga survives, Kagerou defeats Kurogane and resumes his mission to bring down the anti-Oda alliance.
Kurogane is humiliated and refuses to believe that he was defeated by his younger brother Kagerou through skill alone, so he builds himself a gigantic mecha to match the power of the Aleste. He then tests the machine's firepower on a defenseless village, killing all of the innocent villagers caught in the onslaught. Kagerou eventually learns of this and fights Kurogane in a battle to the death. The Aleste, in the end, wins and Kurogane dies.
Kagerou continues his mission and after defeating all of the opposing warlords he comes face-to-face with Astaroth, the leader of the anti-Oda alliance. After defeating Astaroth, Kagerou learns that she has come from another dimension which was supposedly destroyed by Nobunaga, who she believes to be the resurrected figure of Lucifer. Nobunaga plans to take over the world and Kagerou eventually uses the Aleste to stop him once and for all, trapping him in Honnō-ji.
Table of Contents