Jump to navigation
Jump to search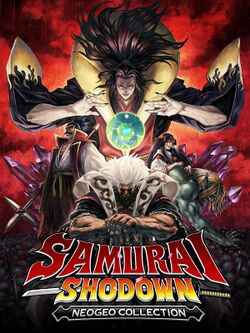 Samurai Shodown NeoGeo Collection (サムライスピリッツネオジオコレクション, Samurai Spirits Neo Geo Collection?) is a compilation of the following games:
Samurai Shodown V Perfect
They are the arcade/Neo Geo versions without any extras from later ports. Samurai Shodown V Perfect is a new version of V Special with the same gameplay but new story/ending.
Achievements and trophies
[
edit
]
There are 29 achievements for Xbox One and Windows, and 30 trophies for PlayStation 4.
Picture
Name
Description
Trophy
A True Samurai Spirit
Obtain all other trophies
N/A

4:

 Platinum
Amakusa's Fall
Defeat the last boss Amakusa in Samurai Shodown
30 

2:

 Silver
To Hell and Back
Defeat the last boss Mizuki in Samurai Shodown II
30 

2:

 Silver
The Demon Slain
Defeat the last boss Zankuro in Samurai Shodown III
30 

2:

 Silver
Thwarted Revenge
Get a Character Specific Ending in Samurai Shodown IV
30 

2:

 Silver
Where It Started
Defeat the last boss Gaoh in Samurai Shodown V
30 

2:

 Silver
A Special Occasion
Defeat the optional boss Mizuki in Samurai Shodown V Special or Perfect
30 

2:

 Silver
The Wandering Swordsman
Defeat the last boss Amakusa in Samurai Shodown as Haohmaru
50 

3:

 Gold
A Maiden's Sacrifice
Defeat the last boss Mizuki in Samurai Shodown II as Nakoruru
50 

3:

 Gold
A Demon Found
Defeat the last boss Zankuro in Samurai Shodown III as Shizumaru
30 

2:

 Silver
Cold Hearted & Hot Blooded
Get a Character Specific Ending in Samurai Shodown IV as Kazuki or Sogetsu
30 

2:

 Silver
New Blood
Defeat the last boss Mizuki in Samurai Shodown II as Genjuro, Cham Cham, Neinhalt, or Nicotine
30 

2:

 Silver
Demon Hunters
Clear Samurai Shodown III as Rimururu, Shizumaru, Gaira, or Basara
30 

1:

 Bronze
Redemption Seekers
Defeat the last boss Gaoh in Samurai Shodown V as Yoshitora, Yunfei, Mina, or Kusaregedo
30 

1:

 Bronze
A Mirror Darkly
Defeat the last boss Gaoh in Samurai Shodown V as Rera, Enja, Suija, or Rasetsumaru
30 

1:

 Bronze
Curtain Call
Defeat Kuroko in Samurai Shodown II
30 

2:

 Silver
Every Dog Has Its Day
Defeat the last boss Gaoh in Samurai Shodown V as Poppy
30 

2:

 Silver
A Worthy Opponent
Clear any game at its highest difficulty setting
70 

3:

 Gold
Clash King
Win a 'Sword Clash' in any game
20 

1:

 Bronze
Never Defenseless
Perform a 'Barehanded Sword Grab' in any game
20 

1:

 Bronze
Special Delivery
Pick up an Item delivered by the Edo Express Delivery Man in Samurai Shodown or Samurai Shodown II
25 

1:

 Bronze
Toying With Your Enemy
Perform a 'Toy Transformation' move in Samurai Shodown II
25 

1:

 Bronze
Cut Down
Eviscerate your opponent at the end of a match in Samurai Shodown, Samurai Shodown II, or Samurai Shodown III
30 

1:

 Bronze
Taking Out Your Anger
Perform a Weapon Breaker or POW Special in Samurai Shodown II, Samurai Shodown III, Samurai Shodown IV, Samurai Shodown V, or Samurai Shodown V Special
30 

1:

 Bronze
Finish Him
Perform a 'No Contest' move in Samurai Shodown IV
30 

2:

 Silver
C-C-Combo!
Perform a 'Link Slash' move in Samurai Shodown IV
70 

3:

 Gold
Over In A Flash
Perform a 'Fatal Flash' move in Samurai Shodown IV, Samurai Shodown V, or Samurai Shodown V Special
70 

3:

 Gold
On Your Own Terms
Perform a 'Honorable Death' move in Samurai Shodown IV, Samurai Shodown V, or Samurai Shodown V Special
30 

2:

 Silver
A Bit Much
Perform an 'Overkill' move in Samurai Shodown V Special or Perfect
30 

2:

 Silver
Like A Boss
Defeat the optional boss Mizuki in Samurai Shodown V Special or Perfect as Amakusa, Zankuro, Gaoh, or Mizuki.
30 

1:

 Bronze