Jump to navigation
Jump to search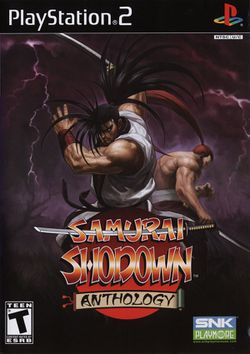 Samurai Shodown Anthology (サムライスピリッツ六番勝負, Samurai Spirits Rokuban Shoubu?) is a collection of the following games:
This collection was originally released as the 12th and final volume of the NEOGEO Online Collection. These games include color edit, arranged soundtracks, and online play through KDDI's MMBB matching service in Japan.
Samurai Shodown VI was improved over the original Japanese PS2 release. The loading times are much shorter, there is an option for arranged voices with the original actors, and everything is unlocked from the start. This version is also available on PlayStation 4 as a "PS2 Classic".
The PSP version only included the arcade versions of the games without any extras.