Jump to navigation
Jump to search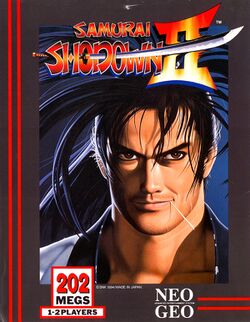 For the 1999 Neo Geo Pocket Color game, see Samurai Shodown! 2.
Samurai Shodown II (真サムライスピリッツ 覇王丸地獄変, Shin Samurai Spirits Haohmaru Jigokuhen) is the second game in SNK's popular Samurai Shodown series of versus fighting games.
Following up on the extremely enthusiastic fan reception of the first SS game, SNK rebuilt the sequel from the ground up, including almost all of its predecessor's cast, adding several new characters, and refining the overall gameplay with more responsive control, more moves (particularly the use of the POW meter as a finishing-move meter), and a substantial number of Easter eggs.
Table of Contents
Remakes & Compilations
Appendices
Character Select
[
edit
]