Jump to navigation
Jump to search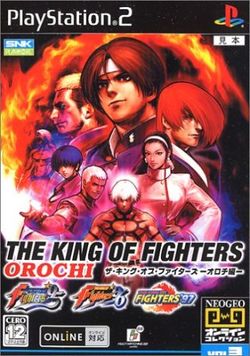 The King of Fighters Orochi Collection is a compilation of three King of Fighters games, namely The King of Fighters '95, '96, and '97. These three games are considered the core of the Orochi Saga of the King of Fighters series. The Orochi Saga centers around the growth of the Orochi power that turns ordinary fighters into powerful killing machines by channeling demonic spirits into compatible fighters. The version of the games that were converted actually come from the extended Neo Geo CD versions, and have all of the secret fighters enabled right from the beginning.
For more information on the individual games, please refer to their individual pages:
This compilation was only released in Japan for the PlayStation 2 as the third volume of the NEOGEO Online Collection. These games include color edit, arranged soundtracks, and online play through KDDI's MMBB matching service in Japan. Both '96 and '97 can be changed to English in the options menu, while '95 is only in Japanese.
Another compilation titled The King of Fighters Orochi Saga was released in the United States and Europe. Developed by Terminal Reality, it also included The King of Fighters '94 and '98, but the games were barebones arcade ports.