Jump to navigation
Jump to search
Click here for more information about Shingo's other fighting game appearances.

Shingo Yabuki (矢吹 真吾) is a high school student who idolizes Kyo Kusanagi and wants to be a hero just like him.
Story (in the KOF Orochi Saga)
[
edit
]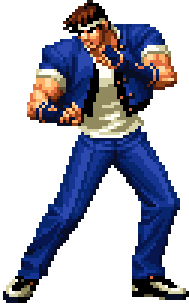 Shingo Yabuki is a recurring character who first appears in the series in The King of Fighters '97 as an edit entry. He is often seen as the comic foil to Kyo Kusanagi. While Kyo was a hero, Shingo is meant to be a "simple and plain, everyday guy".
He is one of the cheerful and silly characters in the series. He considers all fighters as his friends, making everybody see him as a weird but good kid. Shingo admires Kyo like an idol, and often dedicates his victories to him. He dreams of being able to wield flames like Kyo, which is stressed to the point of comic relief throughout the series.
He replicates several of Kyo's moves sans the flames. He isn't perfect though as he always takes out his handbook if he seems to forget a move. He also "messes up" certain moves (such as the 101 Shiki: Oboro Guruma Mikansei (Unfinished Twilight Wheel), Shingo Kinsei Ore: Mu Shiki, and Shingo Kinsei Oreshiki: Rouka Guruma) where he falls or collapses during or after their executions.

Name
Input
Ge Shiki Gou Fu Nage Fukanzen
+
114 Shiki Ara Kami Mikansei
+
115 Shiki Doku Kami Mikansei
+
100 Shiki Oni Yaki Mikansei
+
101 Shiki Oboro Guruma Mikansei
+
Shingo Kick
+
Desperation Move
Ge Shiki Kake Hou Rin
+
Desperation Move
Burning Shingo
+

Name
Input
Ge Shiki Gou Fu Nage Fukanzen
+
114 Shiki Ara Kami Mikansei
+
115 Shiki Doku Kami Mikansei
+
100 Shiki Oni Yaki Mikansei
+
Shingo Kinsei Ore Shiki Nie Togi
(close)+
Hiji Otoshi
+
101 Shiki Oboro Guruma Mikansei
+
Shingo Kick
+
Desperation Move
Ge Shiki Kake Hou Rin
+
Desperation Move
Burning Shingo
+

Name
Input
Ge Shiki Gou Fu Nage Fukanzen
+
114 Shiki Ara Kami Mikansei
+
115 Shiki Doku Kami Mikansei
+
100 Shiki Oni Yaki Mikansei
+
Shingo Kinsei Ore Shiki Nie Togi
(close)+
Hiji Otoshi
+
101 Shiki Oboro Guruma Mikansei
+
Shingo Kick
+
Desperation Move
Ge Shiki Kake Hou Rin
+
Desperation Move
Burning Shingo
+

Throws

Issetsu Seoi
Nage Fukanzen
or +
Command Moves

Ge Shiki Gou Fu
Nage Fukanzen
+
Special Moves

| | |
| --- | --- |
| 114 Shiki Aragami Mikansei | + |

| | |
| --- | --- |
| 115 Shiki Dokugami Mikansei | + |
Special Moves

| | |
| --- | --- |
| 100 Shiki Oni Yaki Mikansei | + |

101 Shiki Oboro
Guruma Mikansei
+

| | |
| --- | --- |
| Shingo Kick | + |
Super Moves

| | |
| --- | --- |
| Burning Shingo | + |

Throws

Issetsu Seoi
Nage Fukanzen
or +
Command Moves

Ge Shiki Gou Fu
Nage Fukanzen
+
Special Moves

| | |
| --- | --- |
| 114 Shiki Aragami Mikansei | + |

| | |
| --- | --- |
| 115 Shiki Dokugami Mikansei | + |

| | |
| --- | --- |
| 100 Shiki Oni Yaki Mikansei | + |

Shingo Kinsei Ore
Shiki Nie Togi
(close) +
Special Moves

| | |
| --- | --- |
| Hiji Otoshi | + |

101 Shiki Oboro
Guruma Mikansei
+

| | |
| --- | --- |
| Shingo Kick | + |
Super Moves

| | |
| --- | --- |
| Burning Shingo | + |