Jump to navigation
Jump to search
Click here for more information about Yashiro's other fighting game appearances.

Yashiro Nanakase (七枷 社) is one of the Four Heavenly Kings of Orochi, and is the dark Orochi counterpart to Goro Daimon in his ability tu utilize the elements of earth. His name means "Shrine of the Seven Shackles".
Story (in the KOF Orochi Saga)
[
edit
]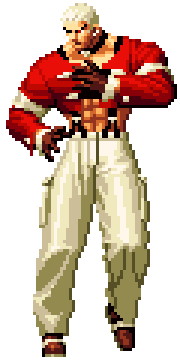 The true origins of the Orochi fighter known as Yashiro are shrouded in mystery. He was a wanderer who traveled the world at his leisure, and played his guitar to his heart's content.
He then found two people who seemed to understand him: in France, he met Shermie, a beautiful female keyboardist. Even though he noticed there was something familiar about her, Yashiro got hooked on her. Afterwards, in Sweden, he met a kid named Chris who, although seemingly quite antisocial, made an excellent drummer. Due to Chris' drumming ability, Yashiro thought of making a band, and soon they played all around the world, gaining thousands of fans. Yashiro became a celebrity, but he also felt something special between him and his partners.
Yashiro looked forward to playing at a big venue in Japan. The day arrived, and a huge crowd arrived at the performance. He then spotted a red-haired man stirring up the crowd. Yashiro left, but not without experiencing the feeling of something familiar in the soul of Iori, similar to Shermie and Chris.
Yashiro spent the following days developing deadly fighting techniques, so he could exact revenge on that redhead. His chance appeared by the time of the The King of Fighters '97 tournament. However, his true self revealed itself throughout the tournament. He was revealed to be the sacred king of the parched earth, one of the four heavenly kings of Orochi, and proceeded to fight to get energy for the Orochi's resurrection. Despite his new form, however, the Orochi had achieved enough energy at that point. They then poured it all into Chris, who made a startling transformation into the original Orochi.

Name
Input
Regret Slam
+
Step Side Kick
+
Upper Duel
+
Sledgehammer
+
Missile Might Bash
+
Jet Counter
+
Desperation Move
Million Bash Stream
+
Desperation Move
Final Impact
+
(hold to power up)

Name
Input
Regret Bash
+
Step Side Kick
+
Upper Duel
+
Sledgehammer
+
Missile Might Bash
+
Jet Counter
+
__Jet Counter Still
+
(during Jet Counter)
Desperation Move
Final Impact
+
(hold to power up)
Desperation Move
Million Bash Stream
+
,( )

Name
Input
Regret Bash
+
Step Side Kick
+
Upper Duel
+
Sledgehammer
+
Missile Might Bash
+
Jet Counter
+
__Jet Counter Still
+
(during Jet Counter)
Desperation Move
Final Impact
+
(hold to power up)
Desperation Move
Million Bash Stream
+
,( )

Special Moves

| | |
| --- | --- |
| Upper Duel | + |

| | |
| --- | --- |
| Sledgehammer | + |

| | |
| --- | --- |
| Missile Might Bash | + |

| | |
| --- | --- |
| Jet Counter | + |
Super Moves

| | |
| --- | --- |
| Million Bash Stream | + |

Special Moves

| | |
| --- | --- |
| Upper Duel | + |

| | |
| --- | --- |
| Sledgehammer | + |

| | |
| --- | --- |
| Missile Might Bash | + |

| | |
| --- | --- |
| Jet Counter | + |

| | |
| --- | --- |
| └►Jet Counter Steel | + |