Jump to navigation
Jump to search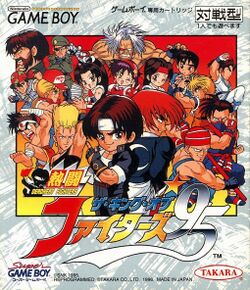 The original The King of Fighters '95 was a success on the Arcade, Neo Geo and consoles by had the introduction of new things, so, Takara tried to give a shot on the Game Boy... with mixed results.
The gameplay system has been changed, now, you cannot use the Team Assistance or also use the Body Blow Attack, 9 characters of the rooster were removed and stages are completely changed and the 4 normal stages use the Rival Team soundtrack, only the boss stage had the normal boss soundtracks.
While the Game Boy had 2 buttons for pressing, Desperation Moves that need 2 simultaneous button presses turned into 1 button press, also, this version adds Nakoruru from Samurai Shodown as a new hidden character before she appears at The King of Fighters XIV.
When reached to Europe, it was published by Laguna, in the US, it was published by Nintendo.
Nettou KOF95 US cover.jpg

Nettou KOF95 EU cover.jpg
Table of Contents
Character Select
[
edit
]