Jump to navigation
Jump to search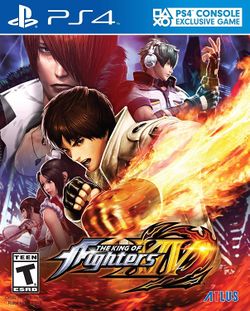 The King of Fighters XIV is a 2016 fighting game that is part of The King of Fighters (KOF) video game series by SNK. The game was developed for the PlayStation 4 and released in August 2016. Atlus USA and Deep Silver published the game in North America and Europe, respectively. It is notable as the first main-series The King of Fighters game to be rendered entirely in 3D, unlike previous installments, which used 2D raster imagery. The King of Fighters XIV has over 50 characters and the gameplay retains the classic system of teams composed of three fighters. In 2017, the game was ported to Microsoft Windows and Japanese arcade cabinets.
The King of Fighters XIV features full 3D models like KOF Maximum Impact against a 2D background in a similar manner to Street Fighter IV and its updates while keeping the formula used in previous installments. The player can select a three-character team who fight against other teams. In the game's story, the fighters often interact depending on their relationships. After eight rounds, the player fights the bosses Antonov and Verse.
The Hyper Drive system from the previous game is replaced with a new version of "Max Mode" from earlier games in the series. In Max mode, the player can perform unlimited EX special moves for a short time and the timer changes in response to the player-character's position.
The game's characters have three types of Supers: the returning "Super Special Moves" and "Max Super Special Moves", the latter of which require two power gauges to execute or one if Max mode is activated and a new type called "Climax Super Special Moves". Climax Super Special Moves are the strongest types in the game and require three power gauges or two with Max mode activated. The game also features the "Just Defend" mechanic from Garou: Mark of the Wolves. The HD thrust system makes the opponent hit the wall and crumple for follow-up attacks. The game is designed to be played like The King of Fighters XIII during Max mode, where the player can use EX moves and three levels of Supers that can be canceled in their order of hierarchy. For beginners, there is an automatic feature called "Rush Combo". When performing a Rush, the player can create combos of special attacks as well as Desperation Moves if the energy bar is has been filled. Techniques created by the Rush system produce less damage than the one performed manually. The online lobby has modes called team VS, single VS, and party VS; up to 12 players can enter and spectate.
Table of Contents
Character Select
[
edit
]